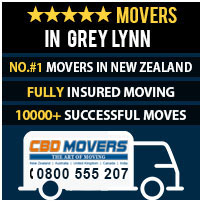 Moving is indeed a complex task. It entails effort, time and money and involves a series of tasks that require close planning and meticulous execution. With no scope of carelessness and laxity, it is certainly one of the most stressful and straining jobs that one encounters in life. Mulling to do it DIY further aggravates the tension and pressure. Thus, it's safe and prudent to rely on the expertise of a professional moving company.
We, at CBD Movers NZ, provide the finest moving services in New Zealand. Our skillful staff with the support of hi-end trucks and advanced removal gear promises a safe and quick move. Movers in Grey Lynn crew supports you at every step. From packing, moving to unpack, we help you settle in the fastest and the best way.
Widest Spectrum of Moving Services in Grey Lynn
At CBD Movers NZ, we offer an extensive range of removal services. With comprehensive knowledge of the area and understanding of the nuances of the business, we offer removal services that cater to the distinct and unique needs of every customer. We are the best choice for house removal, office relocation and furniture shifting jobs. Our crew excels in packing and is trained to dismantle and reassemble furniture pieces skillfully. From basic loading and unloading jobs to comprehensive packing and moving; we take up all.
Our Removalists Services include:
House Removal
Office Relocation
Furniture Movers
Movers & Packers
Loading & Unloading
Tools, Trucks & Licenses
At CBD Movers NZ, we possess the finest line of removal tools and techniques. Our well-defined processes make our operations clear and transparent. We own a fleet of trucks that includes vehicles of various truck loads – 3 tonne to 8 tonne. Each vehicle is regularly maintained and equipped with climate control mechanism for the safest removal during temperature variations. Our network is well established and we are certified to take up local and interstate moves.
Competitive and Affordable Moving Rates in Grey Lynn
At CBD Movers NZ, it is our endeavor to provide quality services at the most competitive rates. Our removal quotes are customized according to services availed and include no depot fee. We also offer comprehensive transit insurance cover at the cheapest rates. We are clear and transparent in our operations with no hidden extras.
Removalists Services in Grey Lynn, Auckland
Grey Lynn is a prominent residential suburb in Auckland, New Zealand. With beautiful houses, comfortable workspaces, commercial centers, recreational areas, and good educational institutes, Grey Lynn offers everything for a comfortable living.
At CBD Movers NZ, we offer our support and services to help people relocate to and from Grey Lynn in a hassle-free and convenient manner. We offer safe and reliable services at affordable and lowest hourly rates. Get in touch with us to know more about our removal deals in Auckland.