Home
» Furniture Movers Auckland
Need help packing and moving your furniture? Whether you need a local or national house/office mover, CBD Movers is your reliable and affordable furniture removalist in Auckland. Maybe you want to move your furniture from one storey to another. Perhaps you're relocating your home or office furniture across New Zealand. We have a team of highly qualified and professional packers and furniture movers to handle the job.
Most homeowners don't have the necessary technical skills and expertise to perform the relocation. Therefore, they need to hire specialised furniture movers in NZ. Our well-trained furniture movers come with state-of-the-art equipment to professionally move your office or house furniture on time and within your budget.
Our Furniture Removalists Can Assist with Large and Small Jobs
At CBD Movers, our team can assist you with jobs of all shapes and sizes. Whether you're moving around the corner or across the country, we'll be there for you. Equally, our furniture removalists can handle delicate items, heavy and bulky items, oddly-shaped furniture that is hard to move, and much more. We have the talent, training, and equipment to safely move items up and down stairs, around tight corners, and much more.
Sometimes you may be able to move furniture yourself, but in many cases, it's worth avoiding the stress and the risk of damage or injury. Our furniture removalists are fully insured and ready to help with your job. If there is any damage to your furniture or your property, we've got you covered. Equally, if we are injured on the job due to unforeseen circumstances, you won't be responsible. Overall, our furniture removalists make everything much safer and easier than trying to get help from family and friends.
Get a Free Quote from Our Furniture Movers
To get a free quote, simply provide us with the approximate size of your house or building, what you want to move, and where you're moving it to and from (with a detailed address). Our furniture movers will then provide you with competitive rates for your move.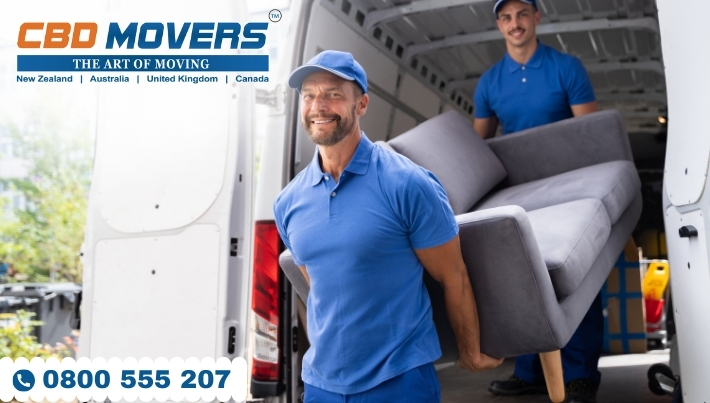 CBD Movers New Zealand offers competitive prices and quality home and office furniture moving services. We operate on an hourly rate. For special circumstances, such as a job outside the coverage area or floor level, we will be happy to give you a customised quote to meet your special requirements.
Get in touch with our expert furniture movers right away to get an estimated price for furniture removals.
Licensed and Insured Furniture Removals Auckland
We're a licensed and insured furniture removals company in Auckland, and our skilled and affordable team can assist you with different types of furniture removals. From in-house furniture removals to transporting your prized possessions to a new home in NZ, we do it all. Our furniture movers offer Auckland and NZ the best possible service. We work with like-minded, accredited, and insured moving partners who have the necessary resources to provide hassle-free moving services across Auckland and beyond at a reasonable price.
Our skilled and experienced team is dedicated to planning and customising each move for a smooth transition of your belongings to your new home. We can ensure there are no unwanted delays or troubles when you are travelling locally in Auckland or across New Zealand. Contact our furniture movers in Auckland to find out more.
What Makes CBD Furniture Movers Auckland Different From Others
Here are some amazing benefits that our furniture movers in Auckland provide to clients:
No hidden costs: You can find out all the necessary information and the cost of our services by filling out our contact form or contacting our customer service representatives directly. Our rates are tailored to each client's specific needs, so it's best if you contact us directly.
No stress or hustle: You won't have to stress too much about relocating your belongings with our friendly and seasoned furniture movers. Allow us to handle your furniture moving needs, knowing that a team of experienced furniture movers in Auckland is handling the task.
Skilled Team: Since our company's credibility is so important to us, we offer you the most dedicated team of packers and movers in New Zealand. That's why many of our previous customers also trust our services and willingly recommend us to their friends and family.
Moving Furniture at a Low Cost: We've been in business for many years and have relocated a lot of people, apartments, and furniture. We are familiar with the best methods for transporting your belongings. This enables us to serve our clients with a wide variety of budgets and needs.
You can get in touch with CBD Movers Auckland at any time and we'll get back to you to assist you as soon as possible. Let us take care of all your furniture moving requirements smoothly. Contact our furniture movers in Auckland today.
Trusted Furniture Movers Auckland NZ
If you need to relocate heavy furniture, keep in mind that it will be more complicated than a simple packing and moving task. Moving and loading heavy furniture pieces requires superior quality packing materials, supplies, and equipment. To make moving easier and safer, furniture such as cots, pantries, and pool tables should be removed first.
At CBD Movers, our furniture removalists use their talent, infrastructure, technology, and tools to provide excellent and cost-effective furniture removals across NZ. We take care of all your furniture moving needs, including packing, loading, and unloading of heavy furniture.
We are happy to give you high-quality, affordable packing boxes and materials in all sizes. By packing your furniture in secure cartons, we help you move your valuable possessions and furniture into your new home with ease.
Simply call us and ask for a free quote to find the best and cheapest furniture movers in Auckland, NZ.
Perks of Hiring CBD Movers NZ
A Deal That Suits You!
Let our affordable removalists help you move your home or office today! With no hidden costs and a tailored package to suit every need, we're the perfect choice for those who want great service at an unbeatable price.
Peace of Mind
When you need a professional moving service, look no further than CBD Movers. We offer packing and unpacking services as well as loading/unloading the truck. With comprehensive insurance, you don't need to worry about any of our services.
Experienced Team
CBD Movers knows all there is to know about handling tricky moves – whether it is just across town or across the country! Our expert team has dealt with every obstacle possible, so we can ensure a happy ending at your final destination.
You Can Focus on What Matters
With our stress-free moving services, you can focus on other aspects of your big move without worrying about the logistics of getting all your stuff from one location to another. We take care of everything from start (loading) until finish (unloading).
Fully Planned from Start to Finish
We know that a lot goes into the moving process. When you choose CBD Movers, we'll take care of it all and make sure your deadline is met! Our friendly team will work with you so there are no surprises, and everything goes according to the plan we make together.
Sit Back and Relax!
Don't let your moving experience be a stressful one. At CBD Movers, we want to make sure that you get into the new property without any hassles so you can enjoy it as soon as possible! We offer free, no-obligation quotes for all our customers, so give us a call today.
FAQ's
What exactly do furniture removalists in Auckland do?
Our furniture removalists in Auckland can transport household and office furniture, as well as other objects, from one place to another. We operate locally and around the country.
Is it easier to purchase new furniture or to relocate existing furniture?
If you're just moving locally, it's probably best to keep your current furniture. Local transfers are far less costly than long-distance moves, so relocating your old belongings would almost definitely be less expensive than purchasing new ones.
Do CBD Movers deliver my furniture to my final destination where I want it?
Yes, our trained furniture movers at CBD Movers will position your furniture where you want it, but they will not constantly rearrange your rooms. It is better if you have a plan in mind for how you want each room set up before our team arrives at your destination.
Is it necessary for me to unpack my bedroom furniture drawer sets?
You do not need to unpack the sets of drawers if the contents are just clothes and bedding. However, please remove any books, breakables, liquid containers or bottles, and jewellery. Self-assembly furniture does not move well and will not withstand additional pressure, so we suggest that you empty these drawer sets.
How will I be charged for packing services?
The number of boxes packed by our professional furniture movers determines the packing fee. The cost of your move would be affected by additional packing. This can happen if you pack your own boxes but don't get them all packed the way you planned. Moving companies will not transport loose items; instead, they will pack them in boxes and charge you for the packing. When your estimate is being prepared, you must provide a detailed list of all the objects to be packed by the mover to provide an accurate estimate.
What is the best way for me to pay for my furniture move?
Be certain to have cash or a certified cheque unless the moving company mentions any other payment mode. It's a good idea to have some extra cash on hand in case of unforeseen delays. Pre-authorisation of credit cards requires advance notice. Before you move, ask your mover what is appropriate.
What isn't covered by CBD Movers when it comes to damage?
Our furniture removalists in Auckland won't assume liability for the following:

Documents, money, jewellery, precious stones, furs, sentimental objects, electronic records, and articles of exceptional value are not covered by the moving company's insurance.
There is no liability for loss or damage due to breakage of china, glassware, or other fragile items unless the mover packs and unpacks the China, glassware, and other fragile products and documents.
Things that are packed by the customer.
TVs, appliances, computers, and electronics that are in good mechanical working order following the move.
Objects that were not inventoried at the point of origin were reported as missing upon delivery.
Items that have been previously broken, fixed, glued, or that are too fragile or unstable to move
Damages that were not registered when the package was delivered.