Home
» Office Movers Auckland
Moving an office is never easy! For most people, all of the preparation, organization, and expenditures can be daunting. This is because office moving is nothing like house removals. Relocating an office is a difficult process that requires training and knowledge to pack and transport items such as documents, files, chairs, cupboards, and other sensitive furnishings, as well as electrical and IT equipment that must be disconnected, and carefully pack and ready everything for transit.
That is why it is a wise decision to seek the help of well-trained and experienced office movers Auckland. Fortunately, you've just discovered the trusted and reliable office moving company in Auckland – CBD Movers. Being the low-cost, full-service moving company with a long track record in the industry, we understand what it takes to make a move go smoothly.
We are AAA+ rated office movers Auckland that provides our customers with effective and dependable safe and secure office moving solutions. Meanwhile, we try our best to maintain the safety and care of your belongings. All of our trucks are completely fitted with advanced packaging materials as well as the required loading equipment. All you have to do is make a reservation with us. Our consultant will come to you, listen to your ideas, and schedule the relocation at your convenience.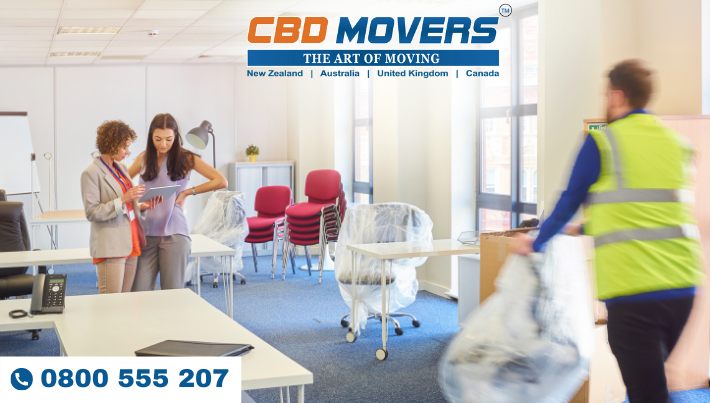 Contact us to get your free office moving quote today!
Whether you are moving a cubicle or an entire officer, we are your dependable office removalists Auckland to contact. Our Auckland office movers are here to assist you in preparing and executing an effortless move. We provide services that are dependable, responsive, and cost-effective. We will also assist you in determining the cost of your transfer if you are unsure.
All you have to do is go to our website and request a free moving cost estimate. You will see an estimation of your expenditures relevant to your relocation details in just a few minutes. Please let us know when and where you need to relocate, and our commercial movers in Auckland will be happy to assist you.
CBD Movers New Zealand offers competitive prices for quality office moving services. We operate on an hourly rate. For special circumstances such as a job outside the coverage area or floor level, we will be happy to give you a customized quote to meet your special requirements.
Important Aspects of Office Removals Auckland
Before you call your favorite office removalists Auckland, make sure you schedule your relocation properly. Since relocating an office or an entire organization requires planning, you should consider creating a commercial relocation checklist. Here are some of the most important elements of office relocation planning:
Reorganize the working hours:  If your organization has a large number of workers, make sure to delegate and assign each one a small role. The secret to a good relocation is to manage it as a team.
Decide on a moving day ahead of time: The more time you have to plan, the more likely the transition will go smoothly.
Contact reputable office movers Auckland. Our moving company will assist you in planning certain detail of your relocation.
Organize your priceless inventory: You must perform inventory calculations and organize your files, papers, and other things to keep them secure.
Reasons to Pick CBD Movers For Office Removals Auckland
Experts at CBD Movers NZ provide local and interstate office removals Auckland. These services are provided by our skilled staff, who utilize advanced machines and cutting-edge technologies during the process.
These services have the following features:
Flexible
Reliable
Authentic
Cost-effective
Online Quotation
Packing unpacking
24 hours feedback
Pre-packing/shifting survey
Proper packing for individual object
Get in touch with us to book our cost-effective and reliable office removal service NZ.
FAQ's
Is it necessary for me to close down my business on the day of the move?
The decision to close down your company on moving day is based on the type of business you run, the number of employees you have, and your personal preferences. During relocation, some businesses tend to have a few workers manning the calls and reviewing emails in a remote area, while others choose to devote an entire day to relocating before returning to business as normal. If you decide to close for a day or more, give your customers plenty of notice and do all you can to accommodate their needs before the move.
Should I ask my employees to help with the office move?
While putting your employees to work during relocation could seem to be a good way to save money, it may potentially put your business at risk. When your workers are in charge of the transfer, you don't have any coverage for things that are broken, and you may be held responsible if they are injured while doing so. Allowing office movers Auckland to transfer your office provides you with the necessary security while also ensuring that the job is completed safely and efficiently.
Who should be in charge of packing the office?
Our furniture removalists will take care packing things for you, ensuring that your furniture, appliances, and valuables are secure during transit. Employees can clear out their desks and file cabinets on their own, or our packers and movers can do it for you.
Can you assess and prepare our new office's technology requirements?
Yes, our team of office movers Auckland will prepare and handle your IT relocation to meet your new office's technical needs. Whatever your business goals are, we will recommend appropriate hardware, software, and IT solutions to meet your office requirements. It may include: Renewing and upgrading IT solutions, Migrating office IT to the cloud, Wi-Fi configuration, Installing sufficient cabling.
Can you send us a detailed schedule for our relocation?
Yes, we'll appoint you a dedicated team of office removalists Auckland who will be your point of contact in the relocation. They'll collaborate closely with you to meticulously plan your entire business removal, including logistics (telephone, ISP relocation, and data) and the safe transporting of all of your valuable equipment. Whatever your requirements are, they will take care of that while making your office relocation Auckland as smooth as possible.
Are you able to schedule an office move in a short amount of time?
Yes, indeed! Many of our customers have requested that we deliver, detach, and reinstall their IT equipment in their new location within a few hours, which is no issue for us (provided our packers and movers are available to meet your deadline). Whatever your needs are, we go to great lengths to meet them – right down to the last detail – and we'll schedule your step accordingly.
Do you shift data centres, servers, and IT equipment?
Yes, ensuring the safe and stable relocation or transfer of servers and data centers is an important part of our office relocation service. Whatever your needs are, we've put in place special safeguards to avoid any hardware failures or data loss while in transit. So if you need to relocate a single server or an entire data centre, we can provide a dependable de-racking and re-racking service, complete with full cabling installation so that things are set up to meet office requirements.