Do you need to pick up and deliver a few things or heavy furniture? CBD Movers' Man With A Van Auckland service isn't your typical moving business. We're a group of movers who have provided prompt, cordial, and professional service for many homeowners and business owners in the country.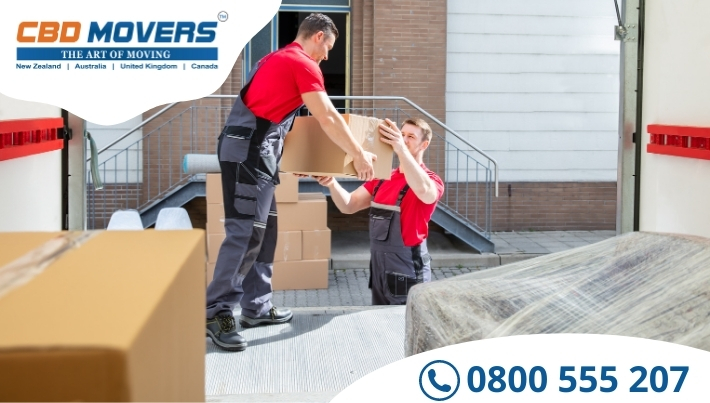 What is Man With a Van?
A man with a van is a self-contained yet competent group of men, or a single individual, who moves a small home or office. A man with a van removals service Auckland is usually much less costly than larger trucking companies since they do not have charges for office leasing, executive organization, and so on.
At CBD Movers, Our Man and Van Auckland team is proficient for small moves such as single item packing and moving, retail or industrial moves from your apartment or house.
Families living in small flats are more in need of Man with a Van Auckland removals services, due to their limited stuff.  Similarly, if people only want to move a single large piece of furniture, such as their bed, closet, wardrobe, or bathtub, they usually hire a Man and van removals service Auckland. Even retailers can use our cost-effective man with a van Auckland removals services to transport their stock regularly.
Auckland Movers Packers offers a consistent high-quality moving service. No move is too large or too small for us. For your relocation, we have created a custom moving plan. In Auckland, we include a Single man with a Van, 2 Men with a Van, and 3 Men with a Van services for single item packers and movers.
Choosing the Right Man with a Van
It is entirely dependent on the size of your furniture or any other items you wish to relocate. It's nice if you can seek the help of your friends to load the furniture into the van or truck. If not, and you believe your furniture would need more people to transport, you can book our 2 Men and a Van Auckland or even our 3 Men and a Van Auckland services for removals in Auckland.
Our Man with Van in Auckland is proficient for:
Retail Deliver
Large Appliances Moving
Moving out from small apartment
Luggage or limited box moving
Furniture that cannot fit in your vehicle
Bought a new furniture piece from the retailer
Stock moving
Trade me Deliveries
Instant moving solution
Small office relocation
Vehicle delivery
Fragile sculptures delivery
Pet relocation
Get in touch with our professional movers and man with a van service provider in Auckland. Contact us online to get an obligation-free quote.
Hire Generous Man and a Van for Your Removals in Auckland
So, if you've wanted to move your furniture or need your stock delivered intercity or locally in Auckland, here's a sneak peek at our preparation that will help us make our man and van service a success.
Do you just need to carry a few pieces of furniture or appliances, or deliver a few boxes? The Auckland Movers Packers provide a professional man and van removals service that includes single item moving and packing as well as temporary storage.
Here are a few items that our 1 Man with Van can help you relocate:
Couch removal
Kitchen utility removals
Office removals, like printers or desktops
AC and Television removals
Toy cars and bikes
Mattress and carpets removals
Vehicle Relocation
2 Men and a Van in Auckland
Our 2 Men and a Van Auckland service are suitable for moving bulky furniture such as a piano or pool table. These gentlemen are expert packers and movers. They are knowledgeable, capable, and dependable.
Here is a list of items that our 2 Men with a van can relocate:
Pool Table Removals
Piano Removals
Wardrobe Removals
Dining table Removals,
Retail delivery of large appliances
Spa tub Removals
Moving with a few boxes or luggage
Why To Book Our Man With a Van Removals Auckland?
Here are a few reasons why people need our man with a van service in Auckland:
Delivery made easy: Our Auckland Movers and packers have the most up-to-date vans and trucks of all sizes to meet your needs. All of the requisite dollies, trolleys, moving straps, ramps, packing blankets, and other items are stored in our vans. We've gone to great lengths to ensure that every move is as smooth as possible. We do not cut corners when it comes to the efficiency and satisfaction of our clients, and we treat their belongings as if they were our own.
Experienced Personnel: Our man and van removals team has been well-trainedand skilled in all forms of furniture removal that are both secure and comfortable. They are familiar with every nook and cranny of the cities, which aids in the movement's effectiveness and performance.
Moving Intercity: Our moving company not only travels locally but also across state lines. We know how difficult it is to relocate your family or expand your business while also relocating your home to another area. It's difficult to find a perfect and competent moving business. However, ourman and van Auckland has developed all of the necessary equipment and machinery, as well as skilled manpower and incredible skillset, to facilitate a seamless transfer each time.
Customized Packaging: Standard packaging does not always work. for special handling of certain goods, you needcustom packaging. Under both of these situations, our man with a van Auckland has a unique custom crating device. These crating systems are often used to load your delicate arts and antiques, such as your exquisite sculptures or decorative objects. Moving covers, cell foam, bubble wrap, padding, tapes, fastening straps, thick cardboard boxes, and other regular wrappings are often used.
Cheap Man With a Van and Storage Company in Auckland
Without a storage centre, a moving company is incomplete. These are often used when you are not ready to move or are still looking for a place. Any confusion when transporting your goods is a nightmare. That's why you need the help of a professional moving company with a proficient and cheap Man With a Van service Auckland.
If you've recently purchased a new sofa, work table, BBQ, washing machine, wardrobe, and so on, our Man with a Van service in Auckland is designed to deliver right to your door. The only stipulation is that you know what size van you want to rent.
CBD Movers New Zealand offers competitive prices for quality house moving services. We operate on an hourly rate. For special circumstances such as a job outside the coverage area or floor level, we will be happy to give you a customized quote to meet your special requirements.
Call us for our effortless Man With a Van Service Auckland at +0800 555 207.
FAQ's
How to get a quote for a man with a van service Auckland?
You can ask a professional moving company about the quote for their man with a van service. They will provide you an immediate comprehensive quote, which will include costs for all variables influencing the price based on the selections you make on the form.
What if movers can't make the move in one day because they're travelling such a long-distance?
There will be restrictions to the number of hours a driver will move if you are relocating to a new home/office that is a long distance away. You need to inquire about what your moving company will do, how they will cover your belongings, and how they will explain their insurance and procedure if anything goes wrong with your belongings overnight. A good and professional moving company will always work with your schedule and make every effort to relocate your belongings as quickly as possible.
How many helpers will I get for booking Man with a Van service?
When you request one helper, the driver will assist you with loading and unloading. If the things you're transporting are too heavy or big to handle, or if there are more than two levels without a lift, consider ordering two helpers. Please keep in mind that if you order one helper and there are big and heavy items to carry, our staff have the right to refuse to carry with the client for the protection of both the customer and our staff. We will send two people when you order one helper, but only one can assist in loading according to the order unless you order an additional helper.
What is the cheapest day to move?
Generally, the cheapest day to move is on weekdays, i.e. Monday, Tuesday, Wednesday, or Thursday. Most moving companies in Auckland offer better competitive rates during weekdays, as they are not as busy on weekdays as during weekends.
Can I negotiate with my movers for the man with a van service?
Simply asking for a lower price is one of the easiest ways to negotiate with a moving business. Companies have exclusive deals and promotions that they sell at various times, and if you're straightforward about it, they'll give you one. There's no need to be hesitant about it.
Can you leave everything on movers alone during relocation?
Even the full-service moving companies Auckland won't be able to move everything for you. Typically, moving companies are restricted by law from moving perishables, flammable goods, or dangerous items on their moving trucks. Leave everything aside in a separate "do not pack" area, so the professional movers know to leave those things behind for homeowners or business owners to move.
What is the suitable van size for my move?
CBD Movers offer different van sizes for the move. This allows us to adapt as per the requirements of the customers. We provide van sizes as per the order size. You must call us and consult our representatives to know about the van size appropriate for your moving requirement.